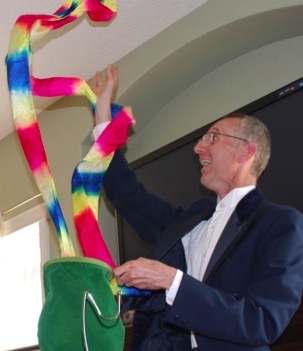 Born and raised in Calgary, Alberta. Married with seven children and eight grandchildren.
Jody performed his first complete magic show for the public on June 25, 1974. It was at the Calgary Forest Lawn Public Library. After this he began  performing shows for birthday parties, company Christmas parties, schools, boyscout groups, kindergartens and daycares.
Jody has performed for City of Calgary events on numerous occasions–including the Canada Day Festival at Prince's Island Park.
Jody was was proclaimed Jr. Magician of the Year by Ring 66 Calgary Magicians. Won the Jr. Excellence Award at the Micky Hades Fun & Film Festival and was awarded second place in the stage category.
Jody was a star performer in high school drama productions.
Jody specializes in comedy magic for children. With over 40 years of experience, Jody understands the power of creativity, imaginative play and audience participation. 
Thousands of children have laughed as they have enjoyed his amazing show.